Export Control Report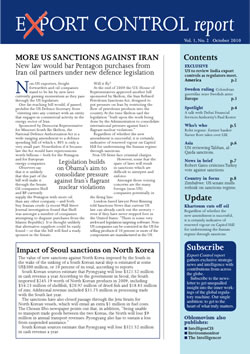 Export Control Report has been conceived to meet a need for timely and business-sensitive information regarding the complicated gamut of UN, US, EU and other export sanctions. In the United States, for example, new legislation concerning the Islamic Republic of Iran has already heavily impacted on not only US companies, but non-US companies doing business in Iran.
The report also provides a 'one-stop shop' providing information on enforcement actions, changes to sanctions regimes and interpretations of 'dual-use'. Intended readership includes regulators, policy-makers, lawyers, compliance teams, freight companies and freight forwarders, exporters of IT equipment and software, defence materiel, plant equipment and similar.